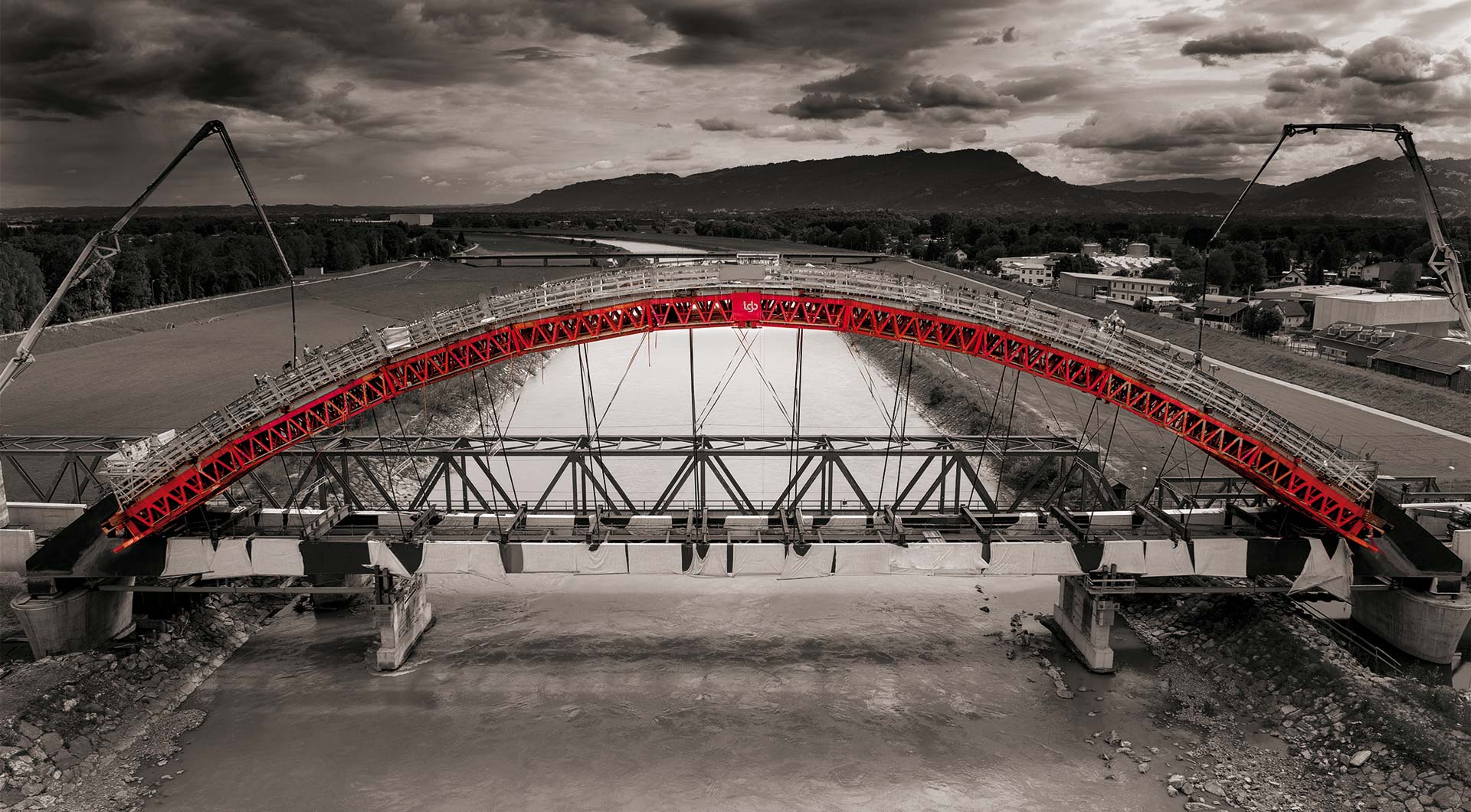 Services
---
We are a reliable and competent partner supplying our customers with bridge building equipment of all types. Our extremely flexible modular systems form the basis for our many movable scaffolding systems, conventional scaffolding, towers and scaffolding supports. Working with our customers, we use our special know-how to develop project-specific, individual solutions to ensure technically and economically efficient operations on site.
From concept to construction, structural design to delivery and assembly of loadbearing scaffolds on site – LGB can satisfy your every need from our own resources.
Special bridges need special services: In addition to our main areas of work, we also provide a wide range of special constructions and customised solutions.
---
Conventional scaffolding
The most common type of scaffolding is the conventional stationary scaffold. This usually consists of support girders running in the longitudinal direction of the bridge, which are carried by trestles. The support girders normally take the form of 3D trusses, plane trusses or rolled steel sections. The modular LGB truss girders can span without intermediate supports clear across bridge spans of to 40 m. Very large or varying span lengths can be constructed using intermediate trestles. Stationary LGB scaffolding is also suitable for industrial and architectural structures for supporting heavy loads at great heights or spanning over large areas that must be kept clear.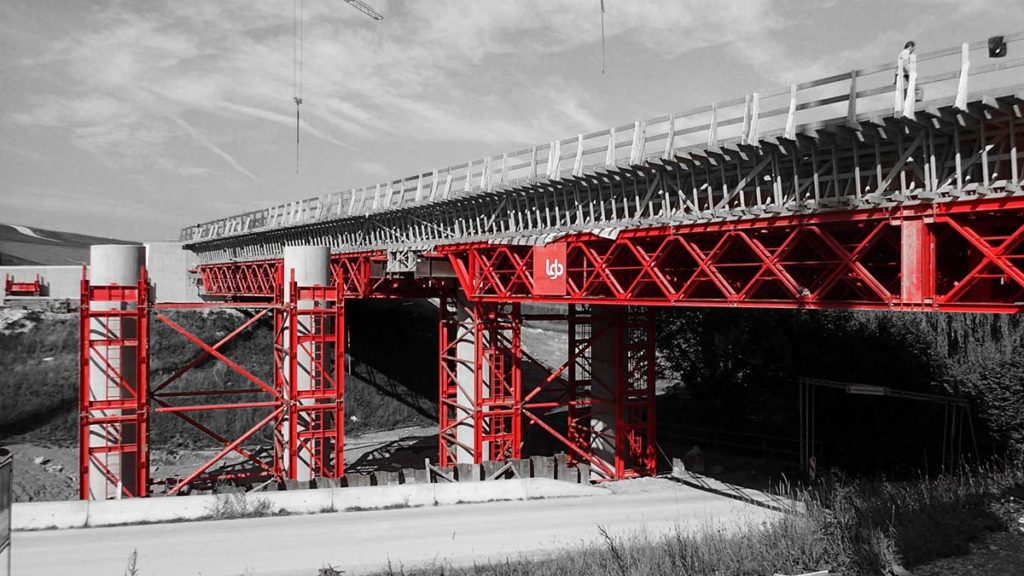 Our conventional scaffolding is notable for its great flexibility. This allows bridges with any cross-sectional shape, longitudinal or transverse gradients and a wide range of plan geometries to be constructed.
The customer benefits from a comprehensive stock of materials and our years of experience in scaffolding.
Ground-supported arch scaffolds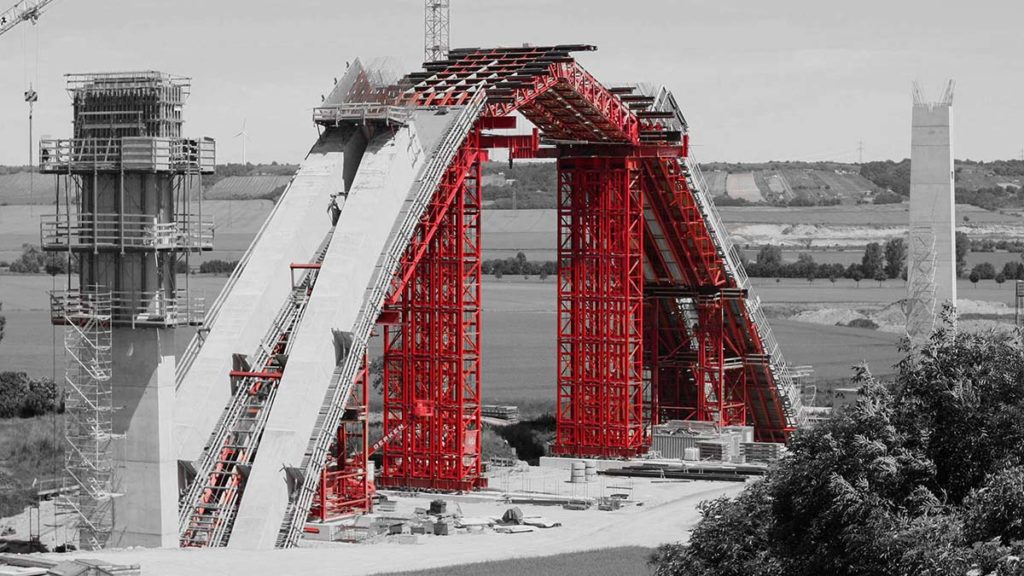 This is a special form conventional scaffolding.
Longitudinal girders supported on competent ground carry trestles which increase in height up to the crown of the arch. The trestles normally consist of steel scaffolding supports. The trestles normally consist of steel scaffolding supports.
To make the shape of the arch, longitudinally running beams are installed in a polygonal arrangement, with appropriately shaped make-up pieces inserted into the gap to the arch soffit.
Self-supporting arch scaffolds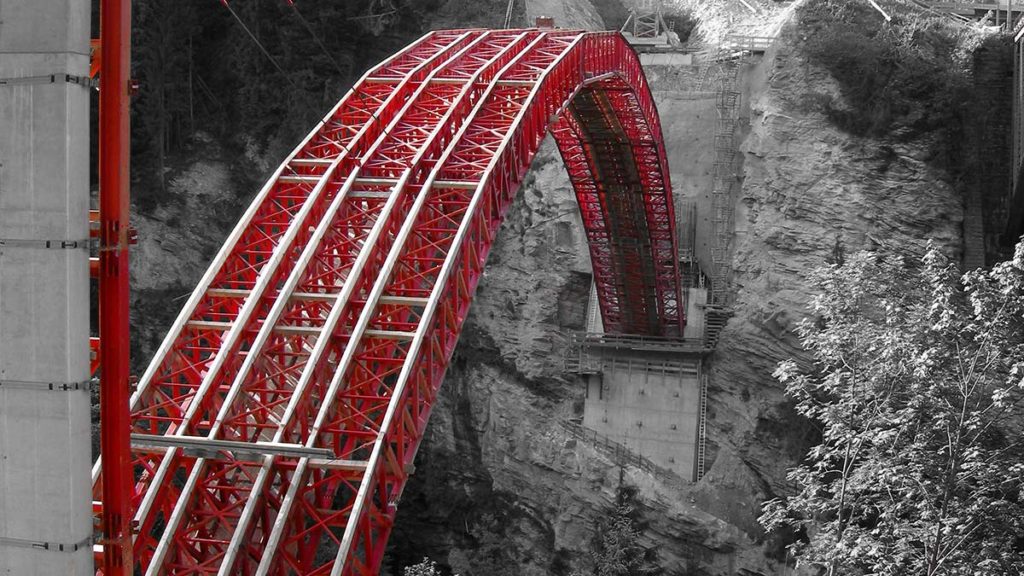 This form of scaffolding is one of the oldest in history. No auxiliary propping is required because the scaffold spans from springer to springer. In most cases, the arch scaffold comprises a number of trusses.
As with ground-supported arch scaffolding, appropriately shaped make-up pieces are used to achieve the final shape of the arch. Self-supporting arch scaffolds are used above all for constructing arch bridges crossing inaccessible land, gorges or watercourses. Free-spanning arch scaffolds with spans exceeding 100 m have already been constructed.
---
Moveable scaffolding systems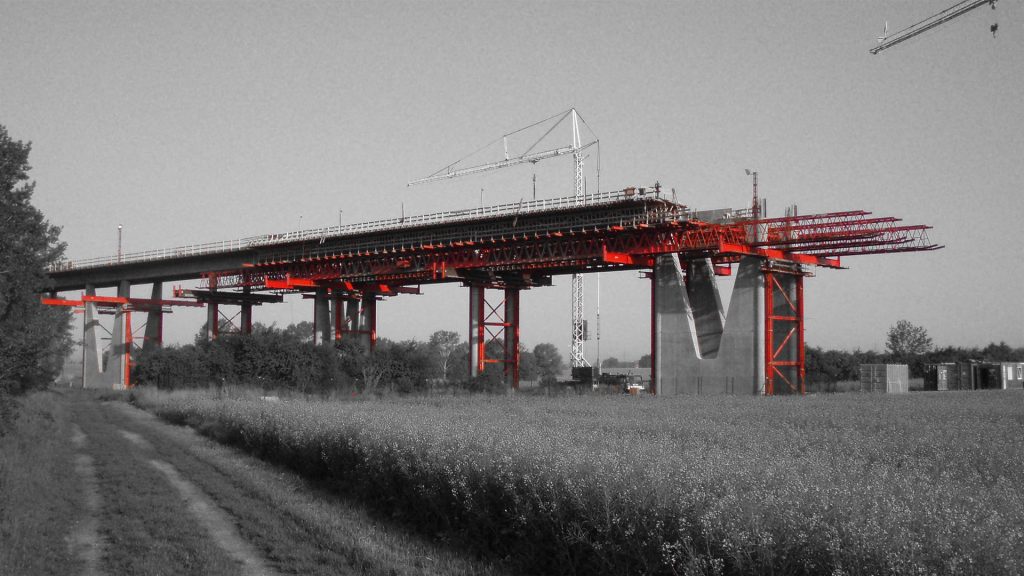 A movable scaffolding system (MMS) is a special scaffold that is mainly used to construct long bridges with more or less equal distances between their supports. In addition to short manufacturing times, this form of scaffolding has the advantage that only enough formwork to complete one segment of the superstructure needs to be provided. After concreting, the formwork and the supporting girders advance to the next segment of the superstructure.
LGB's portfolio includes truss modules with a wide range of load capacities that can be flexibly combined to create movable scaffolding systems to suit your requirements. Whether overhead or underslung, rigid or articulating formwork crossbeams, ground-supported tower trestles at the sides of piers or supports fixed to piers, with or without the use of suspended support arrangements at coupling joints – we collaborate with our customers to develop project-specific solutions for optimum use of material and an efficient construction programme. Our movable scaffolding systems are suitable for the construction of bridges with a wide range of cross sections and spans between 20 m and 70 m.
The typical sequence of operations when using a movable scaffolding system is given below:
Erect the scaffolding including trestles
Install formwork
Fix reinforcement and concrete the 1st segment of superstructure
Lower the scaffolding including formwork
Advance to the next pier trestle
Install the suspended supports at the coupling joint
Raise the scaffolding including formwork to the required final height
Activate the suspended supports at the coupling joint
Fix reinforcement and concrete the 2nd segment of superstructure
Lower the scaffolding, etc. …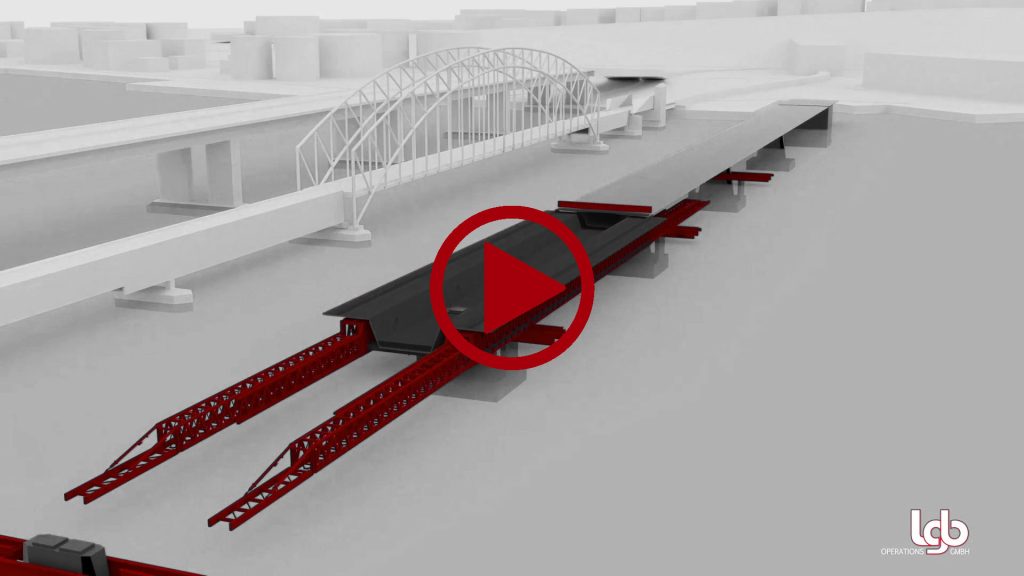 ---
Special Constructions
In addition to our main areas of work, i.e. conventional scaffolding and movable scaffolding systems, we can also provide a broad spectrum of special constructions. Our well-coordinated team of engineers, erectors and fitters also supply creative and efficient solutions to solve the trickiest of problems.
Auxiliary trestles
Whether as auxiliary towers for erecting and sliding into place steel and steel-concrete composite bridges, or as temporary supports in incrementally launched bridges, or as falsework in industrial buildings – there are many ways our heavy-duty and frame supports can be put together, which makes them outstandingly suitable for transferring loads from great heights into the foundations.
Formtraveller
At the request of customers, we develop special underslung formtraveller systems, which offer great advantages, including clear access to the working area from above without obstructions such as transverse girders or suspended support assemblies. Our customers gain from improved workflows and accelerated construction times.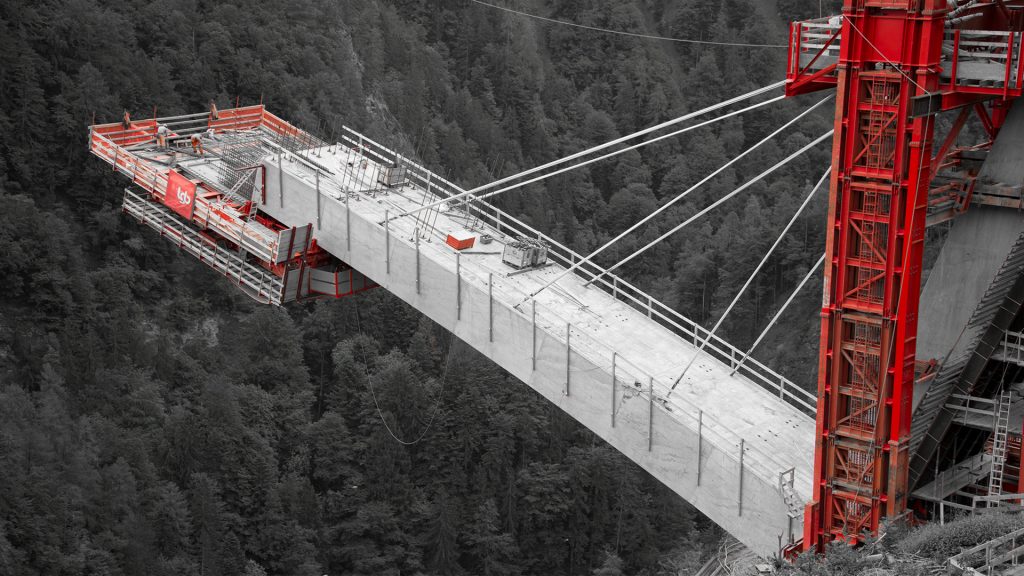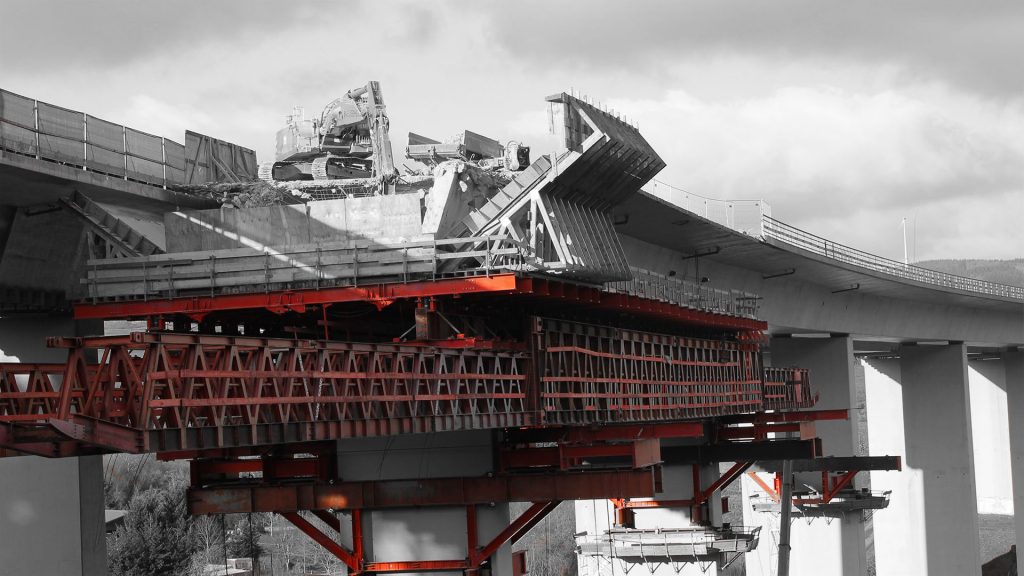 Temporary supports for bridge demolition
Where bridges need to be demolished without damaging their valuable and sensitive surroundings, we can provide our customers with special demolition scaffolding. This allows machines to demolish bridges above a stationary conventional scaffolding platform or the superstructure of valley bridges to be demolished using movable scaffolding systems. If the customer wishes, we develop, design and implement special demolition concepts based on the use of hydraulic equipment. Our technical expertise combined with a close working relationship with structural engineers specialising in assessing the stability of partially demolished structures, we can always provide an economically efficient and structurally safe demolition solution.
Bridge lifting / bridge moving
Drawing on our skills in combining our scaffolding and hydraulic equipment, we are always pleased to offer our customers tailor-made structural solutions for raising bridges, lowering superstructures or sliding new bridges built adjacent to their final locations into position.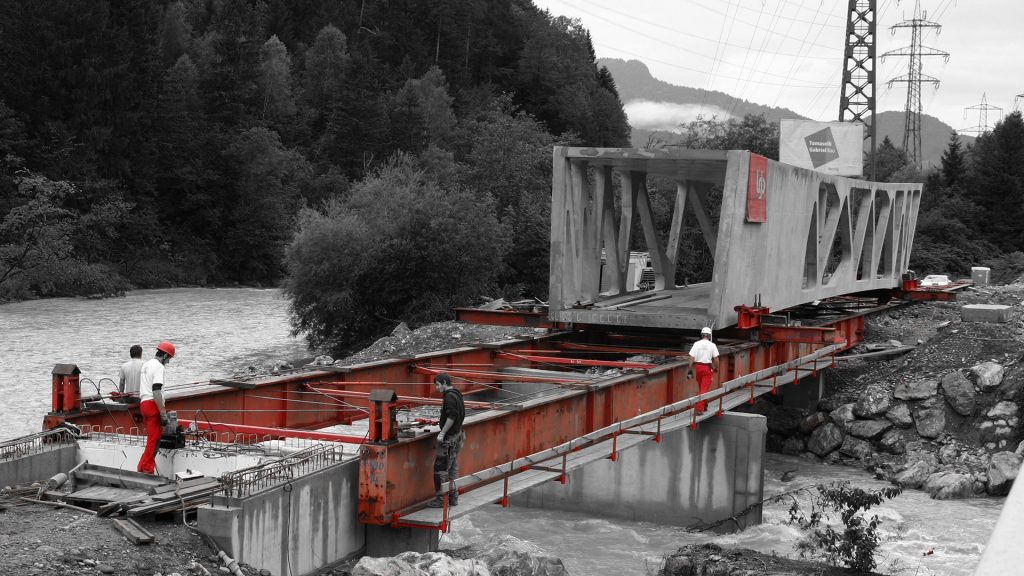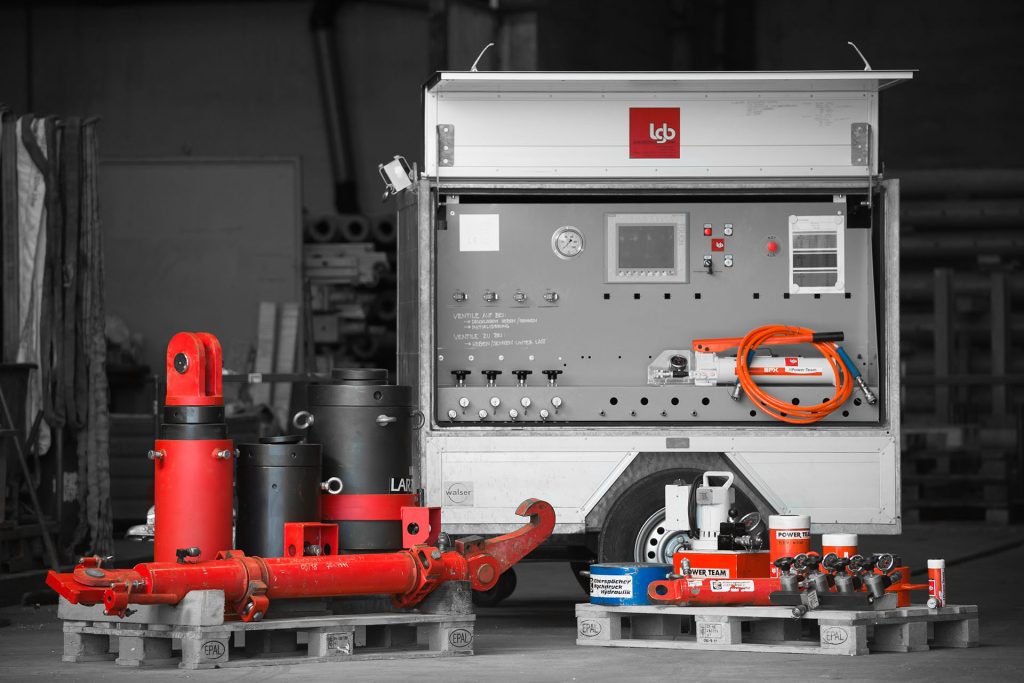 Hydraulic and special components
With a wide selection of hydraulic equipment, we are well set up for the sort of operations described above. Our hydraulic equipment ranges from 10-tonne flat jacks to 560-tonne cylinder jacks with locking collars, from 16 mm low-height cylinder jacks up to longitudinal launching cylinder jacks with a 1000 mm stroke, everything from manually operated units to complete computer-controlled synchronised lifting systems. In addition to an extensive range of hydraulic accessories, we have high-strength stacking material and numerous lowering wedges with capacities of up to 400 tonnes.
Formwork
As well as cooperating closely with a wide range of formwork suppliers, we can provide our own special solutions for complex, clear-spanning formwork integrated into the loadbearing scaffolding structure.
Temporary bridges
Our modular system of support girders and steel components is very suitable for manufacturing temporary bridges of all types.
Bridge assessment
Working with our consulting engineer partners, our in-house, RVS-certified bridge inspectors perform assessments of bridges on local and regional roads and motorways in Austria.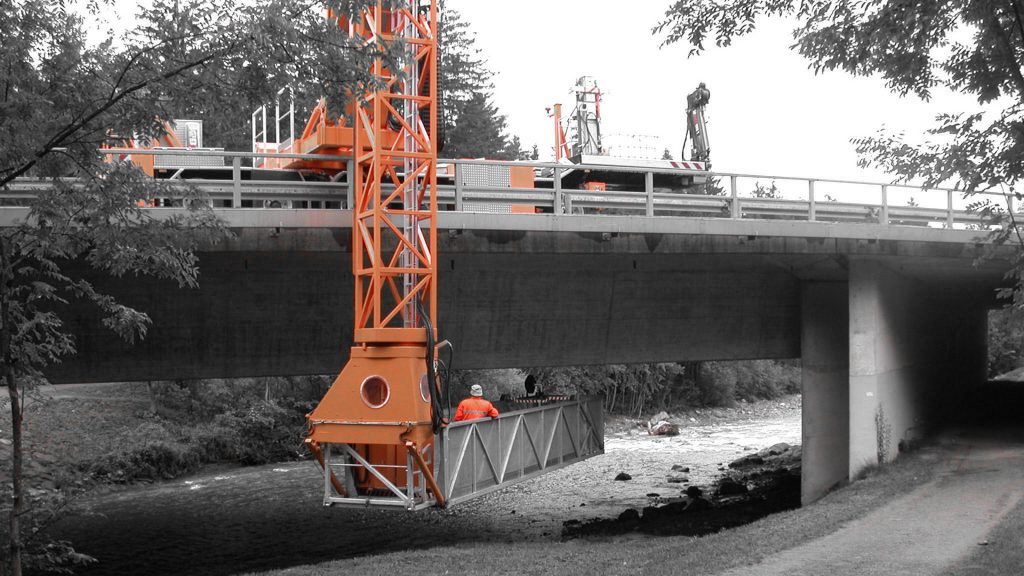 Engineering
Our technical department with its highly trained engineers is available to advise customers at the tendering, planning and execution stages. We develop concepts, analyse and complete structural designs for special projects. For every task, no matter how complex, we can provide a suitable solution, optimised both technically and economically.
---